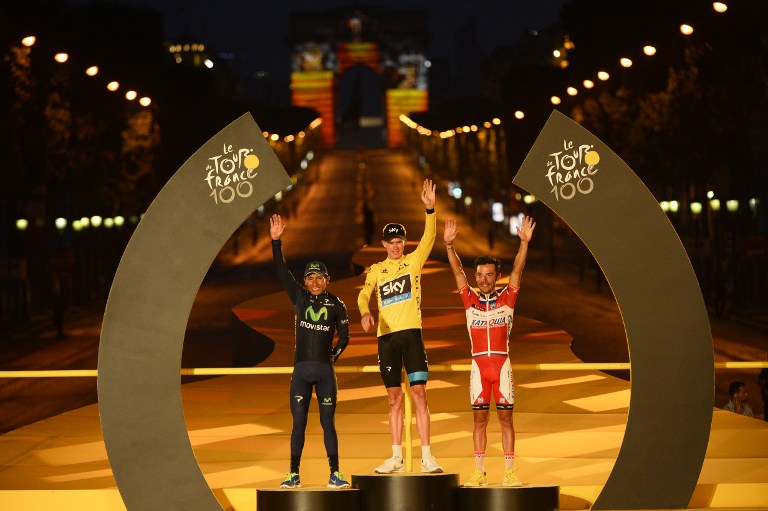 FroomeDogg livin' the dream
Chris Froome's dominant performance in this year's Tour just goes to show why Bill is no longer the neo pro, but rather Maillot Jaune Guillaume. Bill retains his strangle hold on the yellow jersey. His 400 plus point effort has moved him ever so close to the coveted first place.
Smoke'em if you got'em
Team Wiskota Dynamic was able to hold on to the top spot on the leader board thanks to the green jersey of Sagan and a late podium push by Joaquin "Purito" Rodriguez. For those of you that don't know his nickname Purito means little cigar. Third Grand Tour Podium in a row for JRod, so spark it up little buddy, you earned it.
Kittel: so Euro, so cool
Coming into the Tour Volpe looked to be in trouble. No real GC threat to be seen. He would have to rely on Cav to rack up some stage wins maybe the green jersey. Well Cav got two stages, but no green. Respectable but not gonna cut it points wise. Enter Marcel Kittel. Four stages and in impressive manner. This guy's the real deal!
Dude looks tired
Fujarky was unable to win his first Grand Tour but his rider, Alberto Contador managed to keep it exciting until the end. With Contador's 4th place a couple other high placings and some stage wins by Greips and Danny Boy, Fujarky has closed the gap between himself and Team Volpe.
Tiger Beat Cover Model
Taco's pride and joy, Jacob Fuglsang proved many a doubter wrong finishing this year's Tour with a strong top ten. The teen heart throb looks to only get better now that he has the support of the entire Kazak nation. Team Dirty Sanchez's took a hit when team leader Valverde got left behind after a puncture. However, he did fight back to finish in the top ten and may be the favorite to win the Vuelta.
Second place, king of the mountains, white jersey, Colombia for life. Deuces.
Project Forza pro continental squad p/b Gregario has officially been rebranded as Team Forza. After Gregeario's top point getting performance at the Tour, Forza has got the call back up into the big leagues. At one point Gregario had 5 riders in the top ten. Of course it was not to finish that way but the meteoric rise of one Nairo Quintana has saved Gregario's season and made him a contender again. Best free agent pick up of the year. Followed closely by the Quiet One, Michel Kwiatkowski. Gregario's team surpassed expectations and with a team built for the Vuelta the top of the WFL leader board better take note.
That Tour was the shit! Sure Froome had the lead forever, but it never seemed completely safe. Some great attacks, new stars and an amazing course made this the best tour in recent memory. Thoughts? Favorite moments? Hit up the comments. Wiskota!