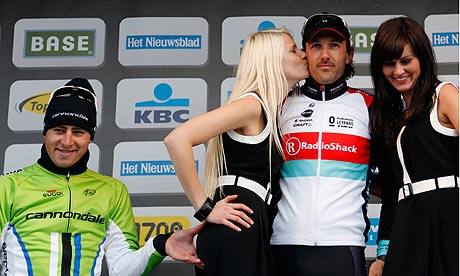 "Quality not quantity, man"
Team Wiskota Dynamic once again flexed his great cycling mind during this year's draft and managed to somehow make his team even stronger, or at least in the spring classics. With J-Rod in the Ardennes, Sagan in everything (quality not quantity man) and with the addition of Mr. Recreation, Tom Boonen, Team Wiskota will be off to a strong start in 2014. Backing up his big three, Gerrans, Betancur, Ullisi, and Kristoff could as well score big points in the early part of the season. Once it comes to stage racing and Grand Tours the Commish will need to make some moves. Roche, Uran, Inxausti, Kelderman, and Brakjovik hold the hopes of the Commish in the one weekers and J-Rod is the lone GTGC guy on Team Wiskota. Not many holes in this team, if the Commish can make some meaningful moves for the US races and Le Tour, look out, it could be a three peat. Or will it be Sagan playing grab ass, Purito crying and Tommeke being too damn Pretty! Only time will tell.
Purito crying in the rain.
Best Rider: J-Rod X factor: Kristoff
Biggest Reach: Inxausti Best Value: Boonen
Recreation